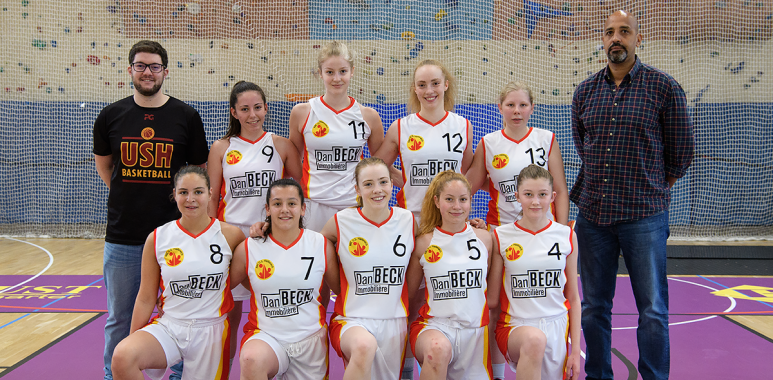 Filles Scolaires Are National Champions
Zwou Wochen nodeems eis Meedercher d'Coupe gewonn hunn, sinn si och elo offiziell Landesmeeschter ginn. Den leschten Match vun der Season, den si 65-58 géint d'Amicale Steesel verluer hunn, gouf haut de Moien an der Hall Omnisport Alain Marchetti gespillt. Och wann si haut verluer hunn, ass et duergaangen, well si den Match an der Hironn zu Hiefenech mat 36 Punkten gewonn hunn. Et ass schued, dass mir d'Season net mat engem gewonnene Match ofschléisse konnten. Dat ännert awer neicht un der fantastescher Saison déi, déi Ekipp gespillt huet. Haut war den eenzegen Match den si verluer hunn (22 w, 1 l). Gratulatioun fir des excellent Leeschtung Meedercher!
After winning the Cup two weeks ago, our Filles Scolaires became also this season's National Champions! The last game of the season, that ended with a loss for our girls against Amicale Steinsel (65-58), was played this morning at the Hall Omnisports Alain Marchetti. Even with this loss,  the margin of 36 points obtained on the first round game, played in Heffingen, was enough to secure the title. It was a shame that we were not able to finish the season with a win but that can't erase the fantastic season made by this team as this was their only loss all year (22 wins, 1 loss). Congratulations for the excellent work, girls!